Post by PB on Jan 23, 2020 7:41:27 GMT
"Photo of the Day"
23/01/20PMQ's returned to Westminster yesterday. One question I found particularly interesting was that of James Sunderland MP, Bracknell, when he posed "what is being done to develop new post-Brexit worldwide trade deals". His emphasis was on the power house of business that exists in Bracknell and the surrounding area with so many companies ready to do business with the greater world. The Prime Minister replied with a jolly retort that he would see to Bracknell becoming the epicentre of business in the region! There is no doubt that south west of London Blackbushe Airport is the epicentre of a vast and valuable business and corporate treasure trove. An affordable General Aviation business airport where Blackbushe patiently awaits, an airport that provides easy hassle free business movements to points across the UK and Europe makes 100% perfect sense. Blackbushe offers perfect access, environmental perfection, and freedom from the congestion of the major airports - it just needs its local bureaucrats to stop gumming up the works!

Business flights are today a regular part of Blackbushe's diet, but she has the appetite for so much more..........

Blackbushe has given me so much throughout my years in her vicinity... and now and again she comes up with a surprise. One of such surprises was a phone call from the Army asking if I'd care to take over their Dakota's operations and activity. G-BVOL had recently been donated to the UK by the South African Government. She arrived after a major refit, was totally immaculate and met on arrival in the UK by Prince Charles and associated dignitaries.

For one glorious year I was G-BVOL's 'Operations Manager', unpaid and challenged with making money to support her continued flying career.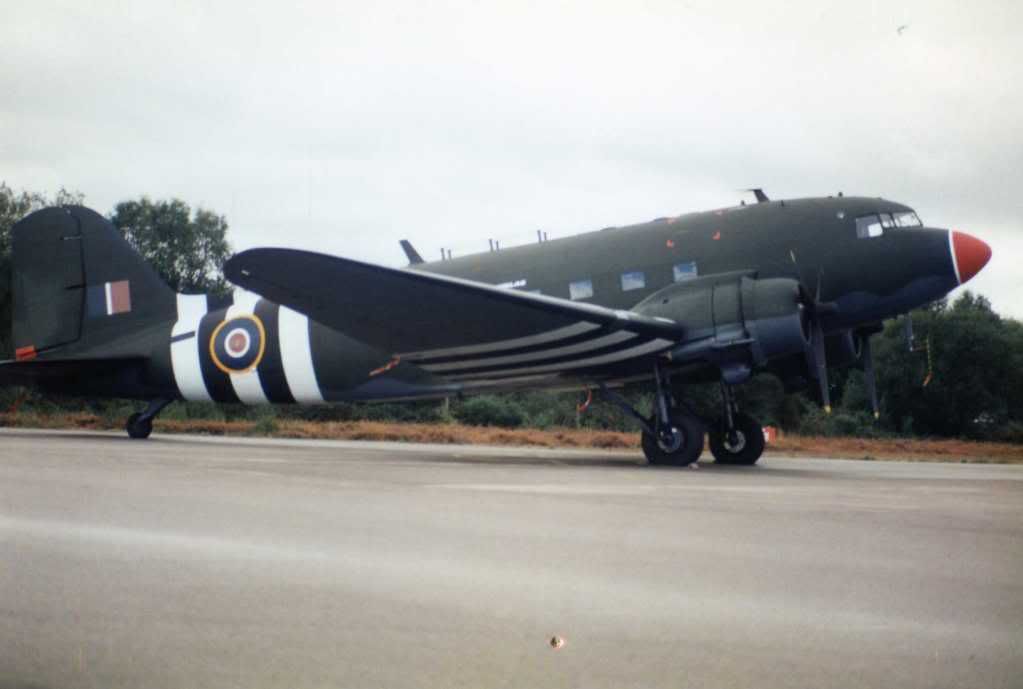 Initially based at Farnborough, Blackbushe made a much more convenient base where I could pop up regularly to wipe oil off the landing gear and remove bird poop from her military colours. We moved her to Blackbushe where she resided on the grass where helicopters flock today..The fin and rudder were a challenge to clean, birds had an affinity with the top of the rudder for their toilet needs. Careful balance, a broom and a bucket of soapy water pretty much did the trick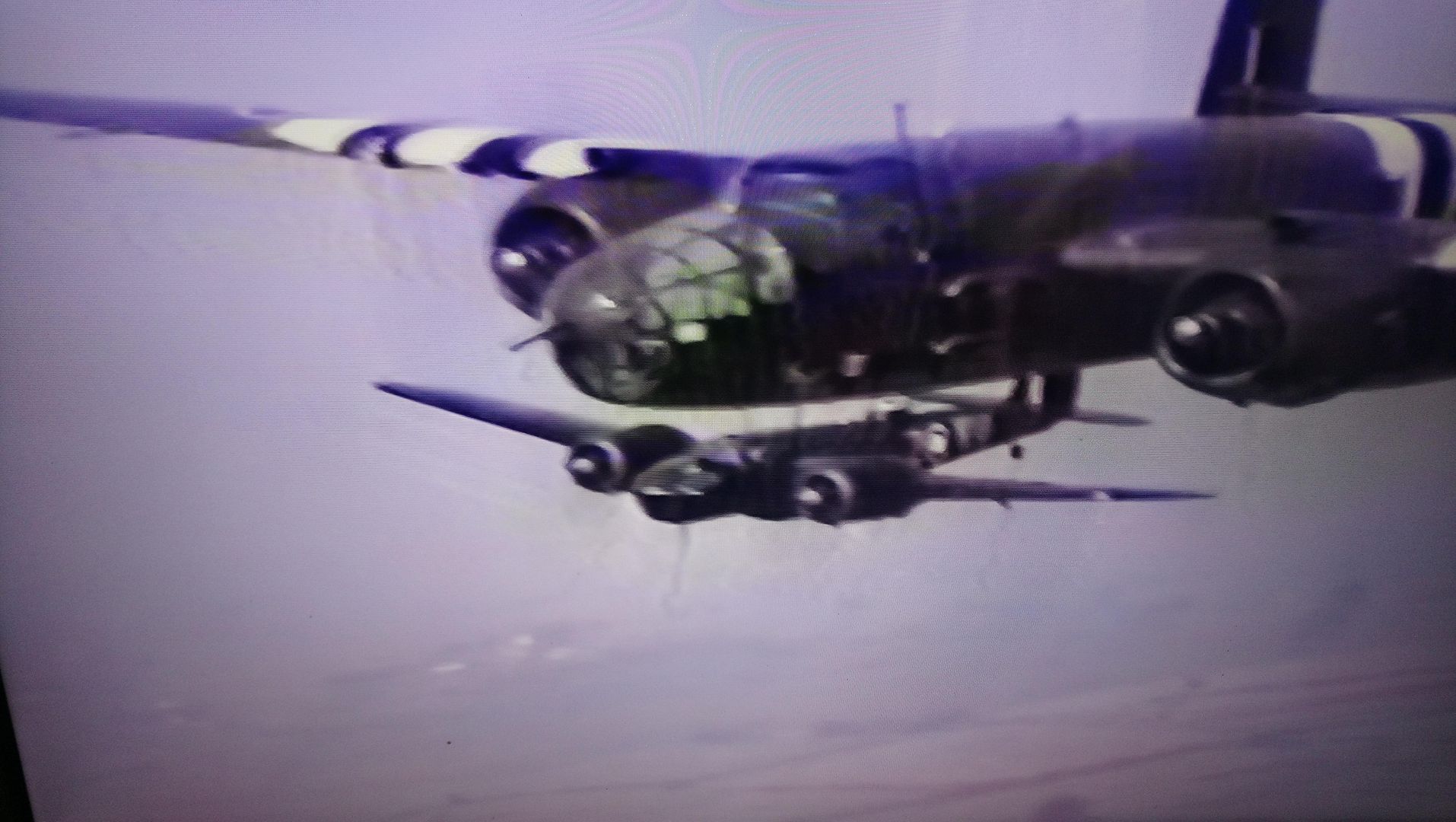 To cut a long story short, the CAA demanded some very expensive mods that our funds could not support. We had a wonderful summer together flying to numerous air shows including Flying Legends where we did a joint piece with the Battle of Britain Memorial Flight. A rare opportunity for a civil aeroplane..

The above photo I grabbed from an old bit of VHS video I shot during our 'last flight'. I've got hours of tapes shot during our year together doing the airshows, but it's all rather lost apart from my old VHS player from which I snapped this yesterday via mobile phone..

Our last flight together, we'd participated in the VJ Day fly-past over Belfast (where the Duke of York took the salute if he remembers..) and spent two days at Newtownards for their air show weekend. We departed Newtownards with the most select company, a lose formation departure with our friends in close pursuit. A Dakota, B-25 and a Blenheim must have been an interesting sight as we rumbled our way across the coast homeward bound? Sadly our destination was Coventry where we said "Farewell" to BVOL. She was sold to Prince Bernhard of the Netherlands. Bits of her still fly in the Dutch Dakota Association's aeroplane - they almost came to the Blackbushe 75th - while the fuselage now resides in a Dutch air museum in old KLM colours. (Being ex KLM I'm rather pleased about that bit!).
As stated just now, Blackbushe has given many, including myself, much to be grateful for. Especially leading to my magical year with a Dakota and associated experiences I would never have had otherwise. Basing her at Blackbushe was another bonus, we did 'negotiate' very good terms!!!

What is just an expanse of Common to some is absolute heaven to others! Blackbushe Airport is that expanse of land and we look forward to what she can offer all of us in the not too far distant future..

Thanks Blackbushe...



PB